Join us an Academy Committee Member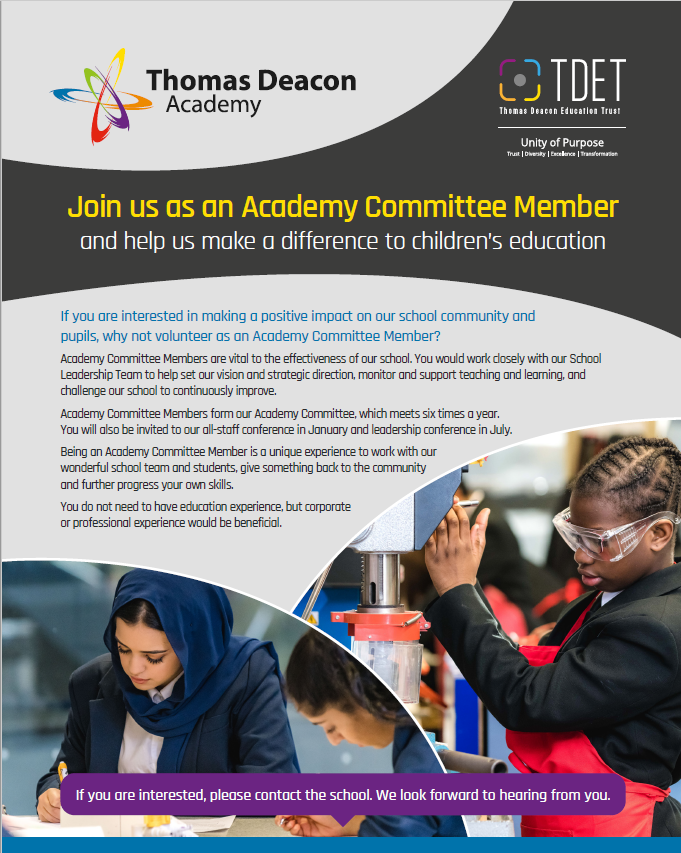 Thomas Deacon Education Trust is a company limited by guarantee and a charitable trust. Responsibility for the academies that make up TDET and for the funds granted by Parliament for providing education in those academies is entrusted to the Board of Trustees.
These Trustees are also the Directors of the company. Much of the work of the Board is delegated to committees; at TDET Level we have the Education Committee and the Finance Committee; locally there is a separate committee for each of the academies which works as an Academy Committee.
Governance at TDA
As an Academy, we are governed by an Academy Committee. This group of people is made up of a non-executive Chairman, a range of local business people, councillors, community representatives, sponsor representatives and parent representatives. The Academy Committee meets every half term and minutes of the meetings are readily available. Please click here for the Thomas Deacon Education Trust Governance Structure.
The core functions of the Academy Committee are:
Holding the Principal and other senior leadership to account for the educational performance of the Academy and its students;

Ensure clarity of vision, ethos and strategic direction;
Register of Interests
To view the TDET Register of Interests please click here
Scheme of Delegation
To view the Scheme of Delegation please click here
Statutory Agreements
Pen Portraits

John Turner: Chair
I joined the Academy Committee at the end of July 2017, after being elected as Thomas Deacon Foundation representative to the Academy. I have also been a governor at Gladstone Primary Academy since it joined TDET in February 2017 so I do have a little experience in the education sector, although not a great deal!
I wanted to join the Academy Committee to be able to share my experiences of working within the charity sector for over 10 years in a variety of roles. I have worked in the tourism, health and social care sectors and that work has included involvement in working with an area-based curriculum as well as leading learning workshops.
I enjoy the opportunities that being a Governor gives me, working as part of a team and learning how my previous experiences can be relevant and adapted to support the work of the Academy Committee and offer a different perspective to the staff and leadership team of the Academy.
TDA has such a great heritage within Peterborough – dating back to 1722 thanks to the remarkable Thomas Deacon and his vision for education for the children of the City. It is also full of a variety of achievements thanks to its amazing students and staff, all of which come together to make it different from other schools.
In 10 years, I want to see TDA become an outstanding Academy with every individual achieving their best.
Jabeen Shafee: Vice Chair
I joined the Academy Committee in 2021, having previously completed my own secondary education at 'Deacons' school. My legal experience has allowed me to become a passionate advocate in supporting the needs of the local communities to enhance life opportunities. I developed an interest in working with young people when I managed a number of youth projects at the Peterborough Race Equality Centre. This enabled me to gain an insight in to secondary education and the challenges faced. I enjoyed the experience so much, that I recently retrained as a secondary school teacher.
Over the last 15 years, I have actively been involved in promoting the local communities in Peterborough, particularly supporting diverse communities and their families within the city centre. I am currently the Chairwoman of a local cricket club, as well as, a founding member of a local SEND parent support group. Both roles involve working closely with families and young people to support them in accessing services and activities.
As a teacher and a parent of two teenagers, I believe I can offer the Academy Committee a unique perspective and share my personal insights. I absolutely understand the importance of education and how it impacts on young people. I further recognise the current challenges faced by the secondary sector across the city in delivering a positive learning experience for all students.
I am looking forward to working alongside like-minded individuals at TDA to ensure the Academy continues to maintain high standards and every young person makes progress and enjoys their educational experiences. I strongly believe a high-quality education can change lives and equips young people to become excellent ambassadors for their community. I am proud to be part of the team who can facilitate this journey.
John Peach
I find I have always been connected with the school, via family contacts, and I first started serving as a Governor on the board of Deacon's School - over 30 years ago! The Headmaster at the time always liked to have someone from the council on the board of governors although at the time I had little experience of education apart being not long out of school myself.
I can't say I had actively wanted to be a governor but had always lived in the Deacons School area, my late father and his father both went to Deacon's School and some Peachs are listed as former pupils who were killed after they left school and joined the army. So it seemed like a natural opportunity to take up.
The part of the job I most enjoy is meeting and talking to both staff and pupils. It is always good when you feel you can give someone advice if they ask a question be it about a school or community matter.
I guess everyone will say that what sets TDA apart is its size. When TDA was formed from the former Deacon's School, John Mansfield and Hereward, it was said to be the largest school in Europe.
I want to see TDA get better and better to become both a UK and world leading school. To make more of its specialism in Maths and Science and to take full advantage of all its links with other schools and businesses.
Samantha Cameron: Co-opted Governor
I joined the TDA Academy Committee around a year ago after seeing an advert in the Junior Academy's newsletter. I have a 10 year old daughter currently in the Junior Academy and a 20 year old son who is at Sheffield Hallam University, after attending TDA from the age of 11. I am a Community Assistant Practitioner for the District Nursing Service, and have worked in this field for 17 years.
I was interested in joining the committee because, although I have no background in education, I am a parent and I was curious as to what happens behind the scenes of a busy, thriving local academy. Because I have two children who have been and are currently part of the academy, I felt that I could also give input on a whole range of issues from the parents' perspective.
I thoroughly enjoy seeing the different opinions and rationales behind the decisions made by the committee and the Senior Leadership Team in relation to the running of the academy. I also love the chance of working with so many different professionals who contribute to maintaining the high standards which Thomas Deacon Academy expects of both its staff and students.
I believe that the Unique Selling Point for TDA is that it is a huge part of the local community and it should be something that we are proud of. The students are our future and they are entitled to the best we can offer and if I can in some way, no matter how small the contribution, help them to achieve their potential then I have made a difference not only for my children but the whole community.
Over the next 10 years, I believe that TDA can only continue to grow and develop, and that can only benefit the children of our future.
Michael Wright
I am currently the Principal at Iqra Academy, Peterborough, an independent Muslim Faith Girls Secondary School. I am Chair of the Education Group of the Muslim Council of Peterborough and Chair of the Association of Muslim Schools for the East Midlands, UK. I also sit on the Head Teachers group of the Peterborough Partnership of Secondary Schools and on the Schools of Tomorrow Fellowship.
I am passionate about education and believe that as an Academy Committee member at TDA, I can provide support, expertise and a wealth of experience to the school and to the Trust. I have a full understanding of Ofsted and have led Teacher Training Departments and inspection teams across the UK, Brazil, Saudi Arabia and Greece. I was also an Education Advisor for the London 2012 Olympic and Paralympic games.
I have been a school Governor at a local Primary School in the City and enjoyed the team work and collaboration, as well as contributing to providing every child with the best life chances and high aspirations.
I believe TDA is different from other schools as it caters for the needs of so many diverse pupils from so many different communities around the city. This presents its own unique set of challenges for us all working for TDA.
I am excited about the opportunity in the future and I am sure that in ten years' time TDA will be a centre of excellence. We will be united by values and purpose, but free to innovate and adapt to meet the needs of all our pupils and local community.
Amy Woolner
I have been working in education for nearly 20 years. I have always had an interest in education and learning as far as I can remember - this led me to explore a career in education. Working with children incredibly rewarding - no two days are ever the same! As an Academy Committee member, I hope that my experience in education can help improve both academic outcomes for pupils at TDA, but also their character and aspirations for their futures.
Kirsty Freeden
I joined the committee in 2020 when my daughter was in Year 7. Both my children are now at TDA seniors after coming through the Junior School. I have been a secondary school teacher for over 20 years and wanted to see if I could help at my children's school. I went to school in Peterborough and really care about the quality of education in our city.
In my current job at Queen Katharine Academy, I lead the social science department and look after the development of our early career teachers. I think this perspective as an experienced teacher and a parent of students at the school, places me in a great position to work with the school to raise standards and attainment at TDA.
I am interested in increasing the life chances and opportunities for all students through exam success and enrichment.
--------------------------------------------------------------------------------------------------------------------------------------------------------------------------
Clerk to the Academy Committee is: Isabel Clark: isabel.clark@peterborough.gov.uk